Research Overview
My research interrogates the cultural production of difference in popular media. The term "difference" refers to the minoritized people that comprise a constellation of intersectional identities in modern society. More specifically, I probe how particular subjectivities are written onto active female bodies in popular media such as action films or sports. My interdisciplinary research agenda considers media texts as cultural artifacts that operate through various discourses and recognizes that representations of women's bodies—as they intersect with other identities—are always operating in a particular cultural context. For example, in popular U.S. media, technological innovation has facilitated new ways to consume diverse identities while neoliberal logics fuel the notion that difference is desirable because it is marketable. These are just a couple examples from my analysis of the contemporary cultural context that forms the backdrop of my body of work.
Branded Difference: Promoting Female Athletes in the Ultimate Fighting Championship
My current book manuscript (forthcoming 2020), based on my dissertation, investigates the Ultimate Fighting Championship's (UFC's) representation of female athletes, such as Ronda Rousey, throughout its mixed-martial arts (MMA) transmedia empire. Branded Difference: Promoting Female Athletes in the UFC weaves textual analysis of UFC media with interviews with UFC fighters and staff to examine how the organization integrates women, with a special focus on minoritized women, into its various media ventures. "Branded difference" is the term I employ to theorize communication strategies the UFC utilizes to entice new fan demographics, which consequently establishes diversity as a bona fide economic strategy. I argue that branded difference is an ambivalent cultural discourse that fluctuates between stereotyping identities and presenting difference as a homogenous feature of all human beings. This is a process that masks the disparities that women—particularly women of color, lesbians, and gender non-conforming women—face in the sport. Difference itself becomes flattened through market forces while producing a veneer of progress that obscures structural inequalities in the UFC. The book focuses on a specific sports league, but provides insight applicable to the branding of difference across other sports organizations and cultural industries. The manuscript is under advance contract with the University of Ilininois Press' Studies in Sports Media Series.
This forthcoming 2018 chapter in New Sporting Femininities: Embodied Politics in Postfeminist Times edited by Kim Toffoletti, Holly Thorpe, and Jessica Francombe-Webb examines the Ultimate Fighting Championship's (UFC) incorporation of women into their brand. Women's inclusion has occurred amidst the rise of 'popular feminism,' which is invested in increasing the self-confidence of girls and women via consumerism and individualism. UFC media emphasizes discourses supporting girls and women's strength and martial talent and simultaneously position fighters as empowered heroines who challenge and contradict the disenfranchising effects of body discipline in the media. This brand ethos imagines itself as rebelling against protracted notions of white femininity as physically weak and fragile and instead celebrates self-discipline and individual empowerment through fitness. This chapter sheds light on the growing cultural discontent with representations of thin and underfed white feminine bodies even as cultural discourses maintain the pre-eminence of whiteness.

This 2017 article in the International Journal of Communication investigates the Ultimate Fighting Championship's (UFC's) increasing efforts to market difference (including race, gender, sexuality, and nationality) across its mixed martial arts transmedia empire. More specifically, I examine the UFC's The Ultimate Fighter reality television show as an innovative transmedia marketing strategy to promote diverse fighters and attract fans from previously overlooked audience demographics. The UFC has used numerous methods of transmedia marketing to fold difference into various media ventures over the past several years. I highlight The Ultimate Fighter as an exemplary case study in the development of a "we are all different" discourse in UFC marketing. The UFC's deployment of reality television to market fighters produces a discourse that ambivalently homogenizes and essentializes difference—a phenomenon that girds gender, race, sexuality, and nationality to affective economies of cultural production.
This article, featured in a 2015 special issue on Sexism edited by Sara Ahmed in New Formations: A Journal of Culture/Theory/Politics, examines a particular cultural context where transgender acceptance and inclusion are fiercely contested: women's professional sports. More specifically, I highlight the interlocking discourses of cissexism and sexism surrounding Fallon Fox, professional mixed martial arts' (MMA) first openly transgender male-to-female (MTF) fighter. The interplay between arguments for transgender acceptance and assumptions of fixed sexual difference circulating in MMA blogs, radio shows, and in sports and entertainment magazines, maintains barriers for Fox's participation in the sport. I argue that regardless of the various debates for or against her inclusion in women's professional MMA, both sides reaffirm a patriarchal, cisgender, cissexual system of power by exaggerating 'biologically' sanctioned male physical dominance and 'innate' female physical lack. As a result, Fox's plight is fixed within a discursive paradox as the interlocking discourses of cissexism and sexism create a double bind for trans women in combat sports. Trans MTF athletes encounter cissexism on one front and sexism on the other.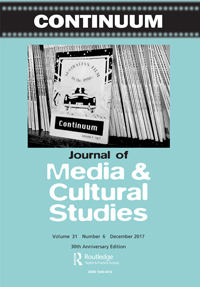 This 2016 article in Continuum: Journal of Media and Cultural Studies employs a feminist approach to audience research and examines the interviews of women who regularly watch and enjoy action heroine films. I argue that participants in this study draw from ambivalent post-feminist discourses to negotiate the contradictions they find embedded in the representation of powerful women in action. The women interviewed are reluctant to believe that the female bodies onscreen are physically capable of the action they perform when compared with action heroes. Instead of viewing the action of the feminine body as literal, they interpret action heroines as visual metaphors for career and academic success and take pleasure in seeing women succeed despite adversity. Consequently, this study reveals that post-feminist sensibilities promote action heroines as successful in intellectual arenas, yet, simultaneously discipline action heroine bodies to render them unbelievable as physically powerful women. By analyzing participant interpretations of action heroines as visual metaphors, I articulate how post-feminist sensibilities make the powerful feminine body suspect.
ABC's hit television show, Scandal, features a powerful African American heroine who brokers her networks and political clout to solve problems for Washington D.C.'s power players. Olivia Pope's (Kerry Washington) ability to succeed in a world dominated by White male elite might suggest that she lives in a post-racial, post-feminist U.S. society—one free from institutional racism and gender discrimination that might inhibit her professional ascent. Nevertheless, a close reading of the juxtaposition of her physical power against White male physicality reveals entrenched gendered and racial discourses of the body. In this chapter in Feminist Erasures: Challenging Backlash Culture edited by Kumi Sliva and Kaitlynn Mendes, I argue that post-feminist and post-racial discourses valorize Olivia's professional clout as representative of a post-identity U.S. society while simultaneously denigrating her physical power via depictions of domination by her White male lovers. Assessments of popular texts such as Scandal allow us to take the pulse of dominant ideologies and determine the ebbs and flows of power within the popular imagination. As such, Scandal's resonance in U.S. culture suggests that the professional success of Black women in U.S. society is imaginable and appealing in 21st century America. Nevertheless, a critical examination of the discourses of Black feminine power in popular television surfaces persistent anxieties and contradictions surrounding the Black female body—including the body of a self-professed "gladiators in a suit," such as Olivia Pope.